Frank Hurley - near enough is not good enough
Posted on 3rd February, 2019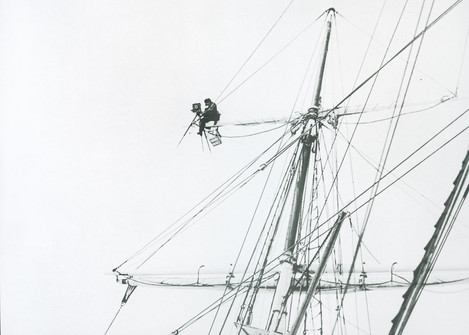 Frank Hurley (1885-1962) was an Australian photographer. This short note aims to show some of his beautiful work primarily from Sir Ernest Shackleton's Antarctic expedition between 1914-1917, and to explore how he managed to make such emotive and exceptional images, as well as the immense challenges he faced and how he might have overcome these. This isn't an attempt to review his life or work more broadly. I've used a number of quotes from relevant diaries; these might break the flow of the article a little, but they are as close as we can get to Hurley now, and they give a feel for the 'spirit of the times' and so I think they are worth using.
I first read Shackleton's diary of his 1914-1917 expedition to the Antarctic many years ago, well before I had a real interest in photography. If you haven't read it, and are interested in leadership or exploration, get it now! One part of his diary that really made an impression on me was that when the team's home, supplies, means of return home, and only reliable source of relative warmth (their ship, called 'Endurance') was crushed by the ice and sank, Frank Hurley was busy photographing its demise. His name remained at the back of my mind, and I bought an excellent book called 'South with Endurance' (which I highly recommend – please see the references at the end of this note) and was simply bowled over by his work. Several years ago, I visited an exhibition in Edinburgh displaying some of Hurley's images, as well as some by Herbert Ponting; I have never been so impressed, or moved, by a collection of images before (I should add that some of Ponting's work on display was very special too). Not long after this exhibition, I was lucky enough to see a large private collection of Edward Weston's beautiful images on display in Edinburgh, but overall I thought that some of Hurley's images really stood out. Perhaps my opinion was biased by the story behind them?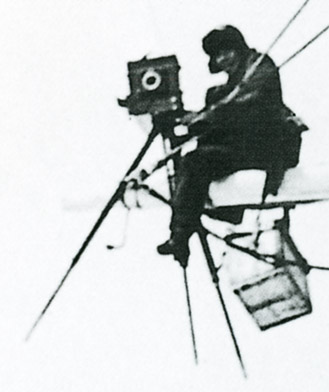 Hurley was the official photographer on Shackleton's extraordinary 1914-1917 expedition to the Antarctic, and I've chosen a 'portrait' of him that I'm sure he would love – balanced far too many feet up on the rigging of their ship, alongside his camera, getting on with the job!
Having sailed to the Antarctic, the crew were planning to spend the winter in Endurance before attempting to make the long journey to the South Pole. However, their stay in their winter quarters was cut short because the vessel became entrapped in the ice. In Shackleton's words, "I looked down the engine-room skylight as I stood on the quivering deck, and saw the engines dropping sideways as the stays and bed-plates gave way. I cannot describe the impression of relentless destruction that was forced upon me as I looked down....The floes, with the force of millions of tons of moving ice behind them, were simply annihilating the ship". In his diary, Hurley wrote that "Amidst these profound and overwhelming forces, we are the absolute embodiment of helpless futility" and "The floes, like a mighty vice, have crushed her laterally....all the cabins have been closed up as efficiently as a folding Kodak". Only a photographer could come up with a description like that! Despite this life threatening situation, Hurley not only helped the crew try to salvage supplies; he photographed the entire episode in temperatures around minus 60 degrees Centigrade, and that's before taking account of wind chill. And he wasn't blessed with down jackets or Merino wool thermals like we have today. One of his images required considerable efforts, or in Hurley's words: "During the night take flashlight [pictures] of the ship beset by pressure. This necessitated some twenty flashes, one behind each salient pressure hammock, no less than ten of the flashes being required to satisfactorily illuminate the ship herself. Half blinded after the successive flashes, I lost my bearings amidst hummocks, bumping shins against projecting ice points and stumbling into deep snowdrifts". The image referred to is shown below. This image is remarkable in its own right, let alone the challenges involved with making it, and its historical significance. With the low vantage point of the camera, it perfectly illustrates the vessel's frozen, entrapped, skeletal appearance; still majestic and powerful, but ultimately doomed.
Hurley photographed the ship as she was consumed by the ice. Shackleton notes that "The crow's-nest fell within 10 ft of where Hurley stood turning the handle of his camera, but he did not stop the machine, and so secured a unique, though sad, picture". In his own diary, Hurley makes no reference to the danger and simply states "I secured the unique film of the masts collapsing". At this point, one could argue that Hurley's diaries are deliberately deadpan, however Hurley ventured back on board the crushed vessel to have a "final look at the darkroom wherein is submerged, beneath four feet of water, my treasured negatives and instruments" and "I hacked through the thick walls of the refrigerator to retrieve the negatives stored therein. They were located beneath four feet of mushy ice and, by stripping to the waist and diving under, I hauled them out. Fortunately, they are soldered up in double tin linings, so I am hopeful they may not have suffered by their submersion". Hurley mentions in his diaries how difficult it is to warm up in the Antarctic once you get cold. This clearly becomes even harder if your ship has been crushed by ice, but Hurley was still prepared to dive into freezing water. I think it is fair to say that the end result meant everything for Hurley – here was a man prepared to risk his life both to make images, and to rescue those images (this was proved again when he photographed the war on his return – he describes how he was nearly killed several times trying to photograph shell busts close up!). Shortly after this, in order to save weight, Hurley was ordered to destroy many of his negatives: "I spend the day with Sir Ernest (Shackleton), selecting the finest of my negatives from the year's collection. 120 I resoldered up and dumped about 400". Imagine that!! I wonder how many of the ones he dumped had been rescued from below the mushy ice?!
The image below is one of my favourite pieces of Hurley's work. Based on reading his diaries, it is clear that he and the crew knew for some time that their ship could well be crushed by the ice, and this has almost certainly influenced his beautiful composition below. The right hand edge of the large ice boulder in the centre is aligned with the bow of their vessel. The right hand edge of the top left block of ice is aligned with the mast. There is symmetry in the numerous triangular shapes. The two blocks referred to look like they have slammed into each other forcing the one on the left up – reflecting the fact that a similar fate may await Endurance. I also like the way that the ice blocks cast a shadow in the same direction that the boat is leaning – the crew would have been living under a shadow of uncertainty created by the ice. There are other aspects about this composition that I love. I think it is the work of a profoundly talented photographer.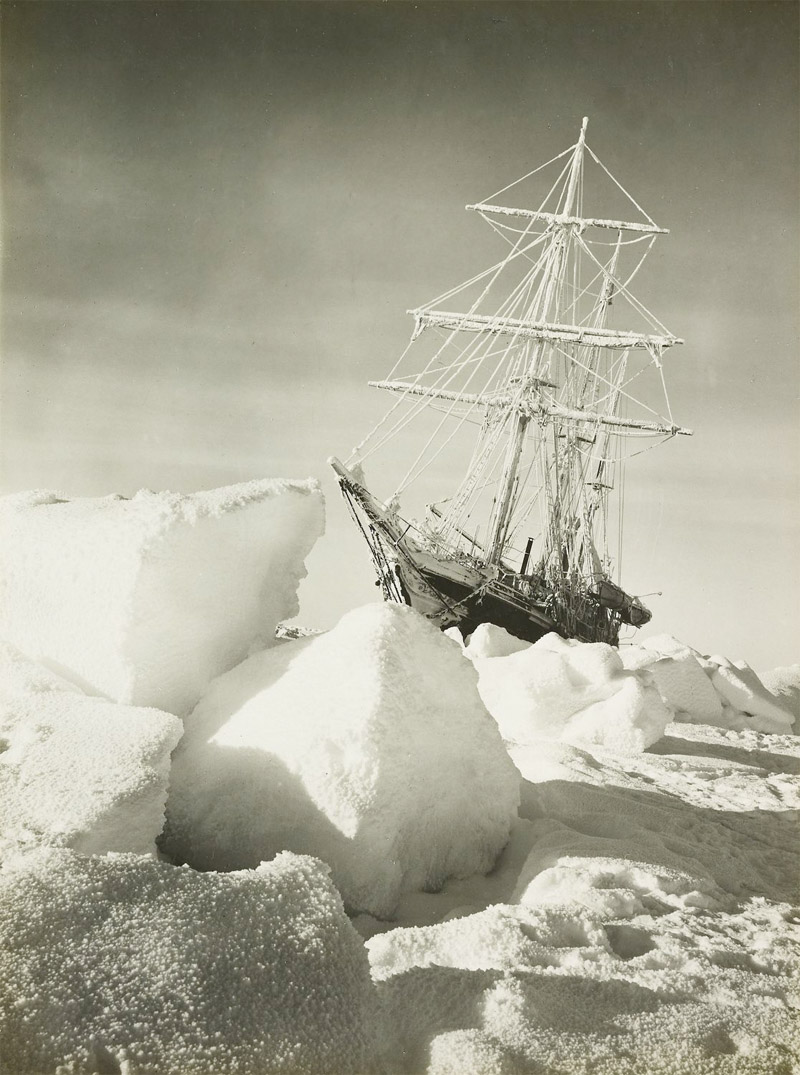 I think the image below is wonderful because it reflects the fact that even the dogs were aware of the demise of the ship, their heads slumping, and the posture of the 3 dogs sitting up is aligned with the that of the masts, reflecting how intertwined the dogs and the ship were. I think that a lot more thought has gone into the composition than might meet the eye.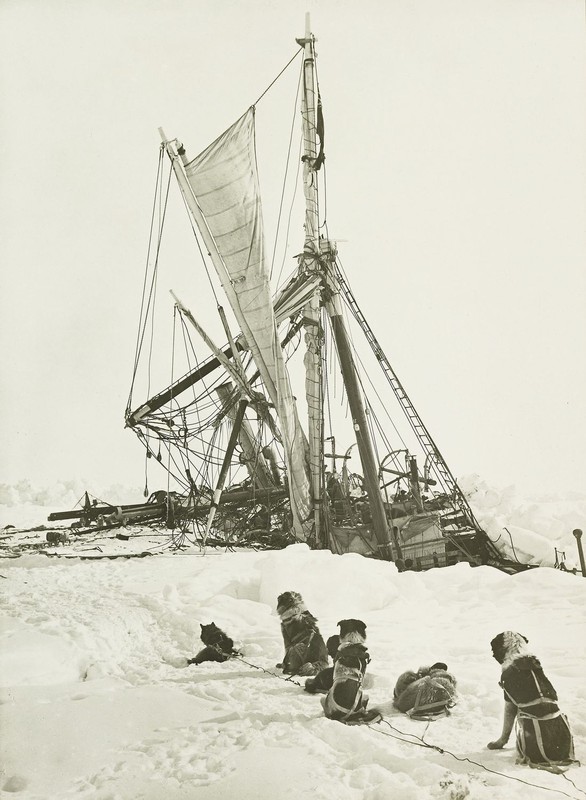 What I find so striking is that Hurley must have known that the chances of any of the crew (and therefore his images) making it home were very, very slim indeed, and they must all have been under enormous physical and emotional strain. How, then, did he still manage to produce such exquisitely composed images? The cynic might argue that the images and films were essential to meet their sponsors' demands. However, this point, even if valid, is secondary to actually surviving! One answer could be that team spirit generated a belief that the crew could survive.
After Endurance sank, the ship's cook put on a brew using the blubber stove, and Shackleton writes that he heard one man say "Cook, I like my tea strong" then another "Cook I like mine weak....Here were men, their home crushed, the camp pitched on the unstable floes, and their chance of reaching safety apparently remote....giving their attention to such trifles as the strength of a brew of tea". Only the British! Leadership may well have been important too, in fact after the crew successfully made it to land (land in the Antarctic, that is, so they were still not safe), Hurley wrote that "The success is due to the admirable and able direction of Sir E. (i.e. Ernest Shackleton) who never for a moment allowed a boat out of sight, did all possible to ameliorate the privations and took no risks". Shackleton and several of the crew later embarked on what Hurley described as none of the most hazardous and arduous voyages that has ever been attempted in a small boat, and it is testimony to Shackleton's leadership that the remaining crew actually believed that their leader would return to rescue them – despite the many perils that the journey entailed. In the image below, the crew on Elephant Island are waving farewell to their leader on his rescue bid. I doubt that many human beings today (with our creature comforts) could survive what this crew went through.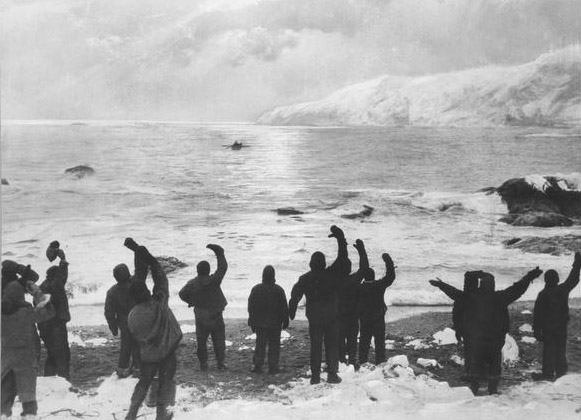 Shackleton notes in his diary that "I found that it was now absolutely necessary to prepare hot milk for all hands during the night, in order to sustain life till dawn". He realised that they were all very close to death, but still had the composure to ensure that he gave his men the best chance of survival. An alternative answer could simply be that Hurley was an exceptionally driven photographer and his focus was first and foremost on getting results that met his standards. Lionel Greenstreet, First Officer, describes Hurley as "a warrier with his camera" who "would go anywhere or do anything to get a picture" and that he "is an absolute artist in the way he selects his subjects". Supporting this point, Alisdair McGregor, in 'Frank Hurley A photographer's life' writes that he visited Mawson's Hut in Antarctica – this was the winter quarters for Hurley on the Australasian Antarctic Expedition (1911-1914). In Mawson's Hut, he found Hurley's darkroom which contained old bottles of chemicals and discarded glass photographic plates. He also found an inscription written in capitals "NEAR ENOUGH IS NOT GOOD ENOUGH". That says a great deal. I find the image below astonishingly powerful and an example of how determined Hurley must have been, as well as what a gifted photographer he was. It was made by Hurley at Cape Denison, Antarctica, in 1912.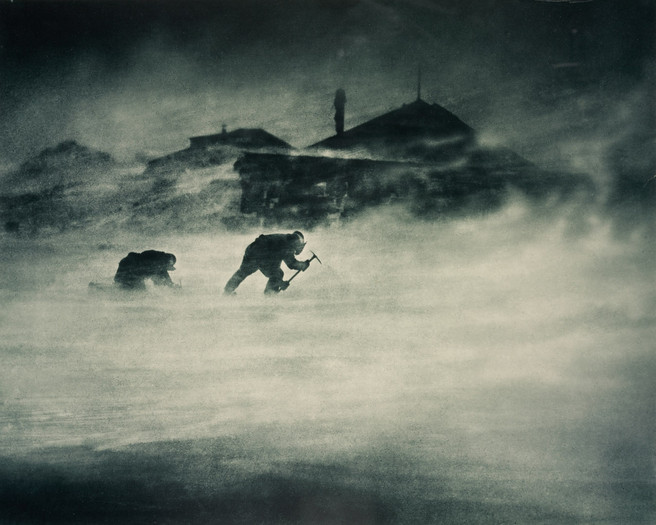 Regarding the image opposite, Hurley wrote that "No conditions could have been more unsuited for photography. I was determined however, to make the blizzard itself a subject for a moving picture. To illustrate the pace and force of the wind I built a shelter from blocks of ice and under its lee photographed the meteorologists as they fought their way to and from the recording instruments … Frequently my fingers, which I had to withdraw from the mitt to turn the handle of the cinema camera, were frostbitten, and often, in moving from point to point, I was swept away by fierce gusts". In fact the winds were so strong that he needed others to support him.
Looking through his images, it is clear that Hurley was fascinated by the ice – its colours, its shapes, its textures and its life cycle. He says that "I was much interested in examining the contexture of the recent young ice formed" and that he "Took colour camera to lead (i.e. a gap in the ice pack) again this morning amidst the similar gorgeous conditions of yesterday, more glorified perhaps for a fine crop of ice flowers have sprung up on the lead and were illuminated by the morning sun, resembling a field of pink carnations". A black and white version of one of these images is shown below.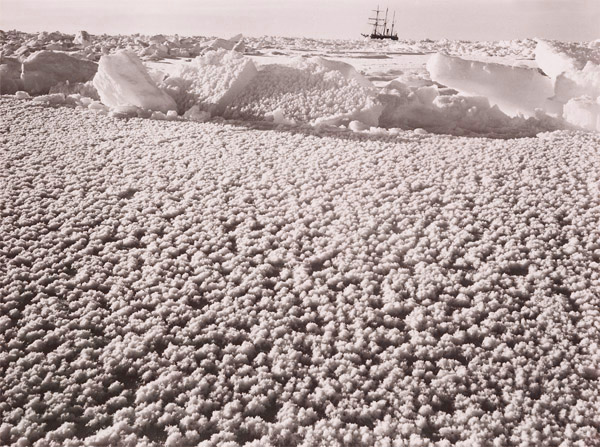 As was the case in a number of his images, Hurley has made great use of the ship to provide a sense of scale, and in his words, though not with reference to this particular image, it was "the only black speck amid this eternal whiteness". Like many photographers, Hurley was often inspired by his surroundings, be it the opportunity to photograph the crew when they had cut their hair off and looked like convicts or by the landscape itself. When on the Australasian Antarctic expedition, Hurley noted that the "prospect around us looks just as if it were the ocean that in storm had suddenly frozen. The crests of the waves were lit by the golden glow of the midnight sun and the great wild plateau looked inexpressibly beautiful". On Shackleton's expedition, Hurley wrote "This evening we have been favoured with sunlight. I climbed up into the barrel lookout from where a magnificent panorama was to be observed.
From horizon to horizon, and stretching north, south, east and west, the pack ice extends, dazzling white with the hummocks relieved by long shadows. The sight...made one feel the tininess and insignificance of themselves". These are comments from a man who says in his diary that he is not much prone to emotion! After Endurance had sunk, along with much of their kit, including most of Hurley's photographic equipment, he wrote that "When the sun, in playful mood, pierces the mists and storm clouds, peaks and sea are glorified with transcending gradation of light and shade and then I miss my cameras and cinematograph". In a later entry, Hurley refers to "glorious vistas of perpendicular peaks....glaciers that hang and cascade to the sea like frozen cataracts....a view beautiful beyond imagination...a fine gravelly beach...Transcending in scenic charm and given cameras and plates, one could spend the year in aesthetic contentment". This was a man who was passionate about landscapes/icescapes and passionate about photography.
I think is fair to say that both the equipment, and the conditions, made photography in the Antarctic exceptionally challenging. When on the Australasian Antarctic expedition (1912-1913), Hurley noted that "My camera is a bugbear and using it is a nightmare. Every time I have to set the shutter I have to take a number of tiny screws from the front and bend the mechanism into shape, and with frostbitten fingers!" In his diary, Hurley states that he used Endurance's refrigerator as his darkroom and there is one diary entry that states "Darkroom work rendered extremely difficult by the low temperatures....Development is a source of much annoyance to the fingers, which crack and split around the nails in a painful manner". Hurley found the cold temperatures problematic for operating his cameras; "a heavy condensation develops on cameras when brought aboard. I have made a cupboard on deck where they may be kept at an even lower temperature. Nevertheless, the apparatus needs attention every time it is taken out, lubricating with petroleum etc...Under these extreme temperatures, the film becomes extremely brittle and loses about 10 per cent of its sensitiveness".
As well as dealing with the severe physical challenges of the weather and the technical issues it caused for his kit, it is fascinating to think what Hurley must have been going through emotionally. After their vessel had been crushed and sank, he wrote that "It is beyond conception, even to us, that we are dwelling on a colossal ice raft, with but five feet of ice separating us from 2000 fathoms of ocean and drifting along under the caprices of wind and tides, to heaven knows where".... "Many sweet memories crowd on me as I lay in my bag, meditating....Home, faces, and our present position that one cannot altogether regard as sweet". Talk about an understatement! Having been chased by killer whales smashing through the ice, the party experienced cracking ice at night – two of the group fell into the sea whilst asleep (can you imagine?!) and Hurley notes "No sleep for 48 hours, all wet, cold, and miserable with NE blizzard raging". The image below shows that the crew's role had replaced that of their dogs; they had to drag their lifeboats across the ice.
When they finally made land in the Antarctic Hurley wrote that it was "just in the eve of time, for so many of the party were emaciated by exhaustion, fatigue and exposure that they could not have survived another 12 hours". After one of their tents had been shredded by gales, Hurley wrote that the ringed penguins which had been living nearby had had enough of the weather and congregated en masse on the beach and migrated "Lucky birds! Oh! To be a penguin!" and that "Life here without a hut and equipment is almost beyond endurance". The crew had to live under a small lifeboat, and often fought over an inch of space and Hurley wrote "I hope never again to be in such a filthy unkempt condition as at present. All faces and hands are black with blubber soot and grime. As for our garments, I shudder to look at them....Food is eaten out of the mugs by the fingers, knives, forks etc., being lost during our escape in the boats". Such was the condition they lived in that Hurley even refers to themselves as "inmates"!
On the momentous "Day of Wonders" when Shackleton (or "Good old Boss!" as Hurley referred to him) returned after what has to be one of the most astonishing voyages on record, the crew were rescued. In Hurley's words "Yet as those noble peaks faded away in the midst, I could scarce repress feelings of sadness to leave perhaps forever the land that has rained on us its bounty and been our salvation.....
After taking a photograph, our first thoughts were to wash, this novel sensation....gave us something of the appearance of our fellows". Hurley was almost certainly a very tough personality, but also a man with a deep emotional attachment to the landscape.
Once the crew had sailed back to South Georgia, Hurley immediately made use of the darkrooms of Punta Arena's leading photographer. All the plates which were exposed on the wreck nearly twelve months before "turned out excellently. The small Kodak film suffered through the protracted keeping, but will be printable". That must have been a huge relief! When he returned to London, he went to visit an exhibition of Herbert Ponting's images "They are the acme of photographic perfection. Ponting's patter is splendid and gives one the impression the penguins were actually performing to his words". Hurley visited Ponting's lecture called 'With Captain Scott in the Antarctic' for a third time and wrote that "I received a very kind tribute from Ponting to my work in the Antarctic, a copy of his beautifully illustrated work In Lotus Land. This is one of the highest tributes that could be paid to a brother artist of the trail, as Ponting is looked upon as being the leader in Antarctic photography". Hurley worked on making slides and albums "one of which is for the King". His images were published in the Sphere and he clearly enjoyed the attention noting that "We could not have wished for more notoriety", but this came after several years of unimaginably hard work in an uncertain and life threatening environment. He displayed his Paget colour plates (the image below may have been displayed) in the Polytechnic Hall projected to a size of 25 feet which he described as magnificent. I expect that even today viewers would find this magnificent!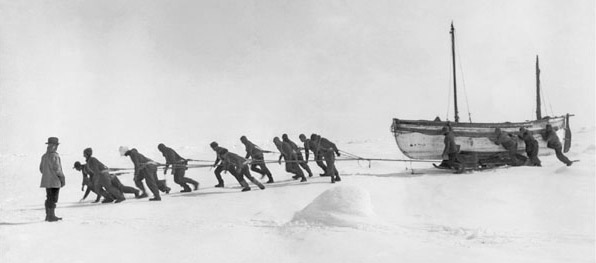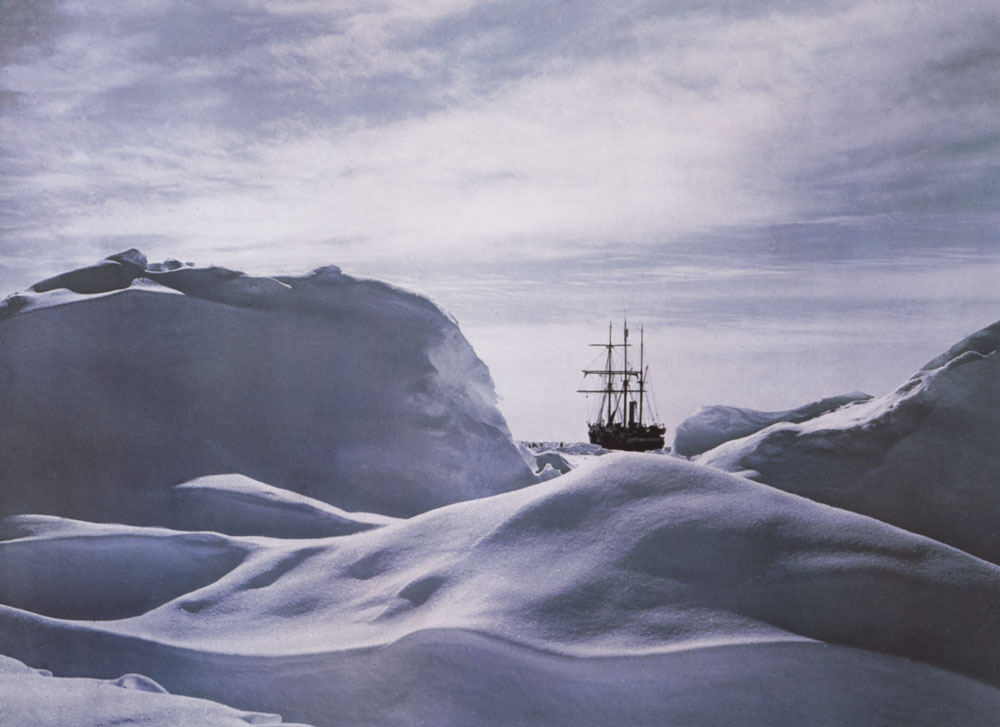 What Shackleton's crew (including Hurley) achieved is almost unbelievable, and it is so sad to think that many of them went on to be killed in the war. I think that some of the images that Hurley made on the 1914-1917 Antarctic expedition are outstanding. What a photographer. I am surprised that his work is not better known, but so very grateful that it exists because it is utterly inspirational.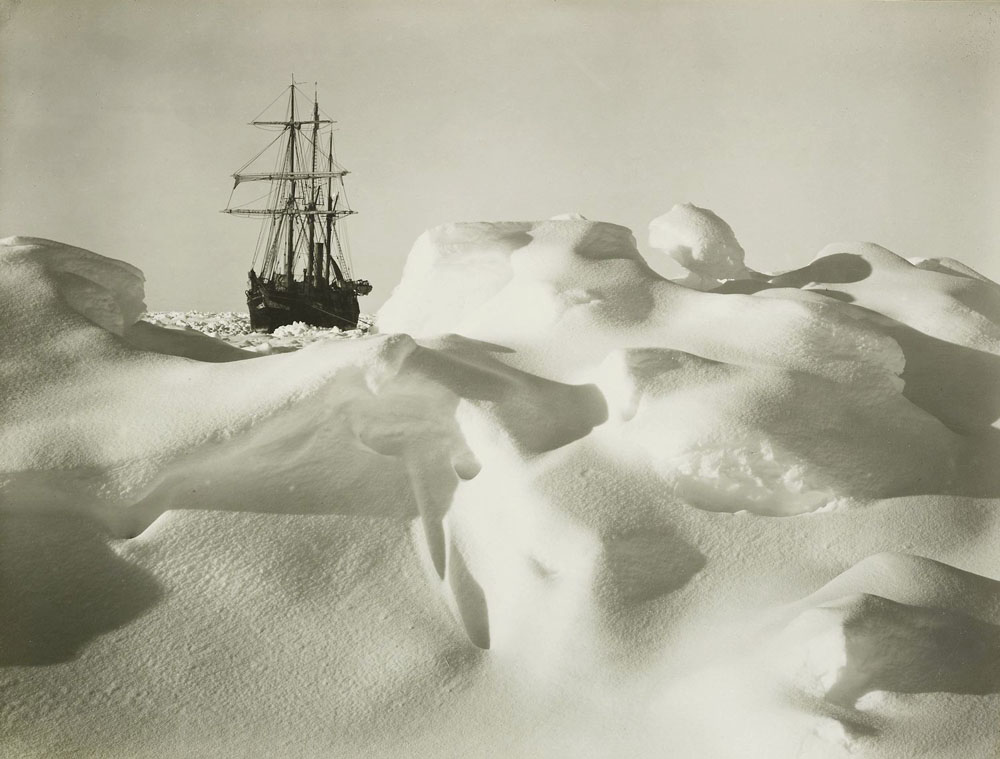 References
South, The Story of Shackleton's Last Expedition 1914-1917, Sir Ernest Henry Shackleton.
The Diaries of Frank Hurley 1912-1941, Edited by Robert Dixon and Christopher Lee, Anthem Press, 2011.
South with Endurance, Shackleton's Antarctic Expedition 1914-1917, The Photographs of Frank Hurley, Book Creation Services Ltd., 2001.
Frank Hurley, A photographer's life, Alasdair McGregor, 2004, published by the Penguin Group.
http://mawsonshuts.antarctica.gov.au/cape-denison/at-home/busy,-busy,-busy
This article is also available via https://www.onlandscape.co.uk/2012/11/frank-hurleys-antarctic/
Michael Stirling-Aird